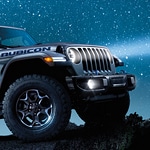 The 2022 Jeep Wrangler utility features include a new power rear seat that folds flat into the cargo area and is fully integrated with the rest of the contour-rear seat system. The cargo area can be expanded by up to 10 inches, allowing you to haul longer items with ease and security. Along with the new trunk area space, there's also a new rear cargo cover that securely keeps items in place.
With this customizable and flexible system, you can remove the cover to expand your cargo space - or leave it on if you want to keep your cargo hidden. Then there's the all-new power-folding feature of the rear seats available in both two- and four-door models that allows you to get more utility out of your Wrangler. You can unlock the rear seats in four ways: electric, manual, push-button and thumb lever.
When you aren't using the utility feature of the rear seats, you can permanently lock them with a new driver-side power seat base lock to protect them from theft.