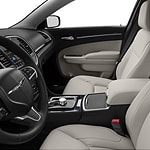 Based upon the popularity of the Chrysler 300 at Fury Chrysler Dodge Jeep Ram, we know South St. Paul, MN loves a good sedan. This adored model combines luxury with performance, and we want to talk about the latter.
When you engage the accelerator on the standard Chrysler 300, you feel the force of 292 horses unleashed from its V6 Pentastar engine, which is rated at 3.6 liters. You'll find sufficient sedan performance from this machine, but you can acquire a bigger engine in the Chrysler 300 line. The available 300S trim includes a stunning HEMI V8 that garners 363 horsepower from its 5.7 liters.
To artfully manage your 300, Chrysler supplies paddle shifters on the steering wheel. You can also choose an all-wheel-drive system. To enhance the Chrysler 300's fuel usage, Chrysler configures the AWD system to act as a rear-wheel-drive setup under most driving conditions. When the system needs to compensate for slippage, AWD engages.